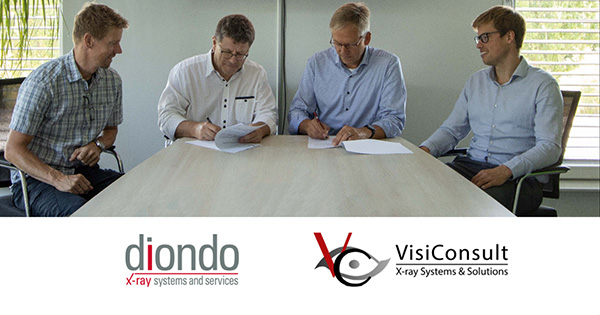 Growth through cooperation - diondo gains VisiConsult as majority partner
Shared visions can turn competitors into partners. This is proven by diondo and VisiConsult. As a new partner, the specialist for X-ray image processing and automation will in future be relying fully on expertise from Hattingen in the CT sector.
"We are united by the same values, a distinct customer orientation, a similar mindset and the sometimes shirtsleeved pragmatism when it comes to finding and implementing technical solutions for what are mostly complex requirements," says Martin Münker with a twinkle in his eye, describing the similarities between diondo GmbH, which he founded in 2013, and its new majority partner, VisiConsult Systems & Solutions GmbH.
Both companies have been successfully developing and manufacturing X-ray-based systems for materials testing and metrology for several decades. They are united by the target to realize the optimal solution for the customer's task. Their competences complement each other. From its headquarters in Stockelsdorf, VisiConsult has made a name for itself worldwide with individual and standardized X-ray inspection equipment. The focus at diondo, on the other hand, has always been on computed tomography. Its use in standard systems as well as in customized solutions has secured the company from Hattingen a top position worldwide.
In the new cooperation, both companies want to combine their competencies. In the future, diondo will cover the entire area of development and production of CT systems, which will be incorporated into VisiConsult's portfolio as an independent product line.
VisiConsult complements the competencies of diondo above all with extensive know-how in the field of automation and in the use of artificial intelligence for data analysis. As a result, both companies are perfectly positioned for the growing market of electromobility in particular, which places high demands on the inspection of series production parts.
"We have set high goals together," Münker emphasizes. "Our strong presence in the automotive, aerospace and R&D environments, coupled with VisiConsult's expertise, will enable us to realize completely new types of highperformance CT systems." In addition, as a smaller mid-sized company, diondo will benefit from the grown structures and personnel resources of the new partner.
As a result of the expansion of production for both companies, diondo plans to at least double its manufacturing capacity within the coming year. In order to achieve this ambitious goal, diondo will focus on the expansion of the infrastructure at the sites in Hattingen as well as on personnel growth in the technical areas and is therefore already keen to hear from qualified applicants.
"This exciting new chapter offers significant growth opportunities for all", notes Hajo Schulenburg, founder and CEO of VisiConsult X-Ray Systems & Solutions GmbH, with a smile. "Combining our strong market presence with diondo's industry-leading CT products will bring noticeable added value to our customers."
About diondo GmbH
diondo is the globally leading manufacturer and service provider for system and software solutions in CT-based materials testing and metrology. The company from Hattingen, in Germany's North Rhine-Westphalia state, develops and manufactures Computed Tomography systems for industrial applications. As a service provider, the company offers its expertise and systems for the non-destructive, true-to-scale, internal and external inspection of any sample, to customers from a range of industries. Leading automotive manufacturers, suppliers in automotive and aerospace industries, companies in growth sectors such as machine tooling, energy,
electronics and defence, as well as research organisations and higher education institutions are amongst the company's customers.
The innovative SME distinguishes itself through exceptional flexibility. New systems are created in a modular manner, allowing customised solutions to be provided with limited effort, giving diondo a critical advantage over competitors.
In recent years the sales network has been systematically expanded into China, Korea, Italy, Russia and well as Switzerland, and the founding of diondo Inc. has established a US presence.
Contact
diondo GmbH
Ruhrallee 14
45525 Hattingen, DE
Tel.: +49 (0)2324 39319-0
This email address is being protected from spambots. You need JavaScript enabled to view it.
www.diondo.com
www.diondo.com/en