diondo d

1
High Performance Micro-CT System
The high-resolution micro-CT system diondo d1 has been perfected for the analysis and measurement of small-to-medium-sized components. By using a high-power transmission X-ray source, a fourfold higher resolution is achieved in the same measuring time compared to conventional systems. Alternatively, with the same resolution, the measuring time can be reduced by a factor of four. The extremely high transmission power also enables the analysis of challenging material combinations such as those used in electromobility applications, e.g. in the development of battery cells.
Breathtaking Resolution in an Eextremely Short Time


The high penetration power of the 240 kV transmission tube combined with the ultimate target power of 80 watts revolutionizes CT analysis in terms of resolution and scan time of challenging samples.
Maximum Inspection Volume for Highest Precision


The combination of a tightly-spaced pixel grid and an especially large active area enables both an extremely high resolution for the examination of small objects and the imaging of large samples in one scan. Multiple time-consuming partial scans at the expense of precision are avoided.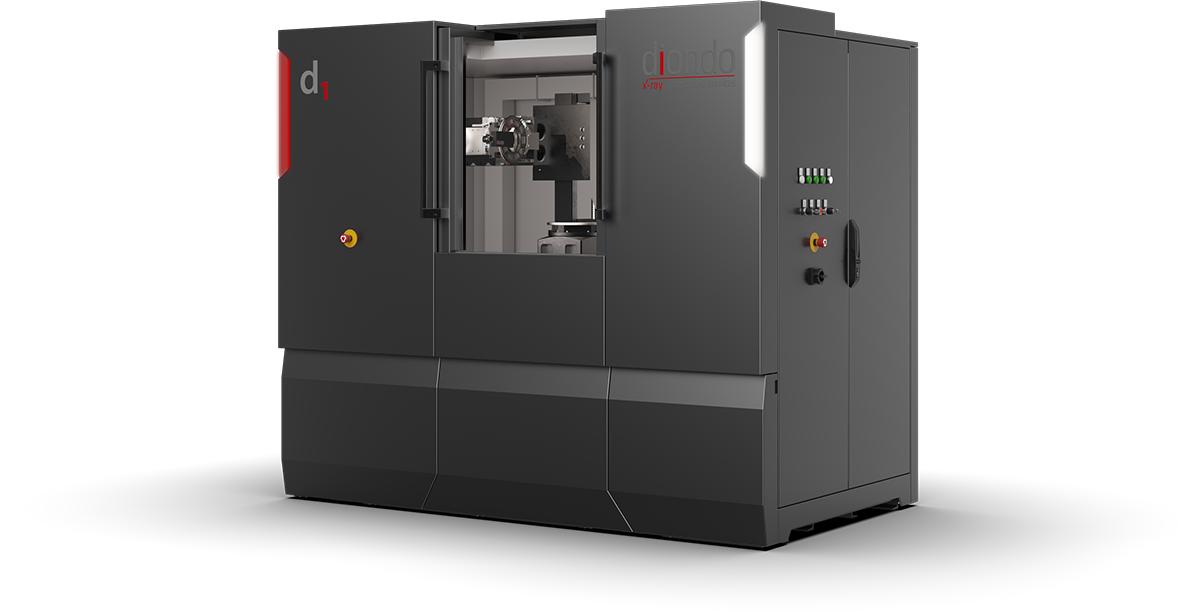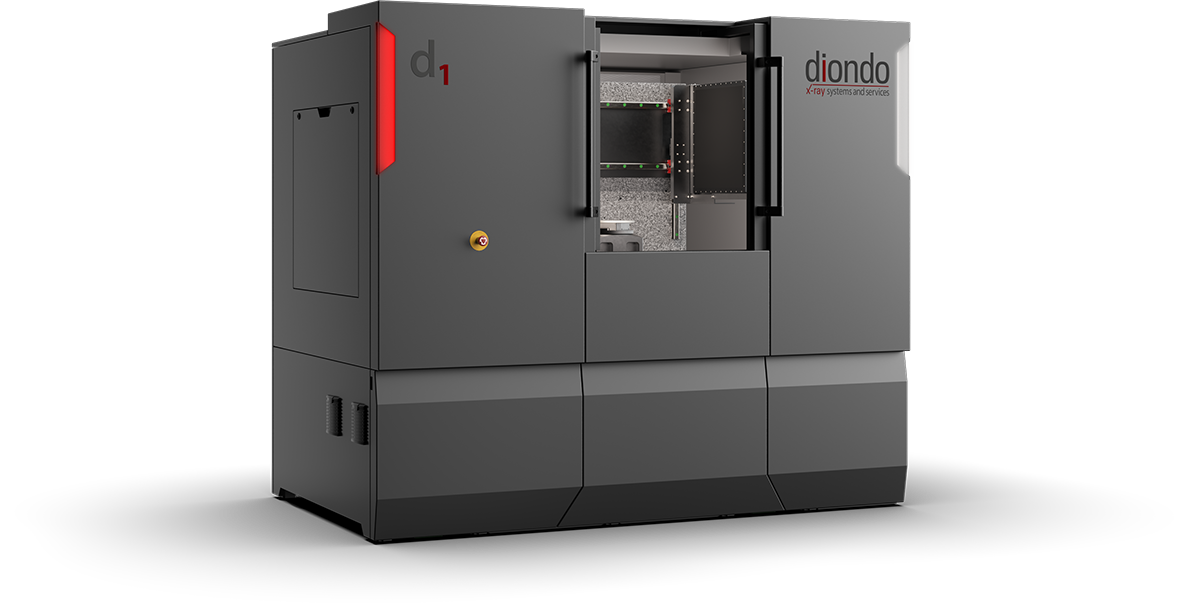 High-Precision Granite Manipulator


Inherent rigidity and temperature stability guarantee highest precision even after many years of intensive use.
Coordinate Measuring Technology
Reproducible 3D measurement technology for highest demands according to VDI/VDE 2630-1.3
Advanced scanning modes


including helix scanning for high flexibility
High-Performance Transmission X-Ray Source
Classical CT systems work with reflection tubes as the radiation source. The high power required here to penetrate challenging materials or higher wall thicknesses in components has a negative impact on maximum resolution.
Simply put, the higher the power used, the lower the resolution. To counteract this phenomenon, lower power levels and the associated longer measurement times are used. This is not necessary with the diondo d1.
By using a high power transmission X-ray source, up to four times higher resolution can be achieved for the same measurement duration compared to conventional systems. Alternatively, the measuring time can be shortened by a factor of four for the same resolution, which is of great advantage not only for small series production.
Applications
Wide Range of Applications
Additive Manufacturing
The d1 is ideally configured for addressing the inspection needs of precision additively manufactured parts for demanding applications in aerospace and automotive industries.
Materials Science (composites)
Despite the high specific strength of composites, premature component failure can occur due to various material defects, e.g. incorrect fiber orientation or impact damage. Non-destructive CT scans can be used to check components before returning them to service.
Metrology
Computed tomography can be used to perform numerous metrological tasks where other measurement systems reach their limits. Even optically challenging surfaces, e.g. transparent or polished surfaces and inaccessible areas can be measured rapidly without any problems at high resolution.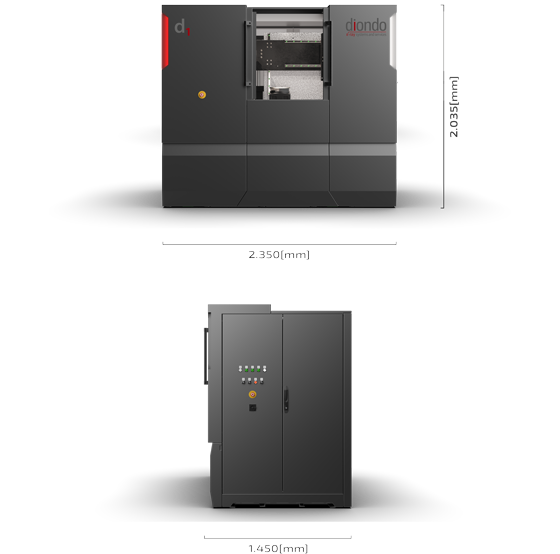 | | |
| --- | --- |
| Transmission Tube | 190 up to 240 [kV] |
| Detector | 3.000 x 3.000 px, 139 [µm] |
| Focus-Detector-Distance | 800 [mm], variabel |
| Scan Volume | Ø 300 x 230 H [mm] |
| Scan Volume, maximal | Ø 400 x 400 H [mm] |
| Sample Weight | 20 [kg] |
| System Dimensions | L 2.350 x B 1.450 x H 2.035 [mm] |
| System Weight | 5,5 [t] |
| diControl Features | DR-Function, Helix CT, Batch Mode, Offset CT, Daily Check, Health Monitor, Limited Angle CT, Metrology gemäß VDI/VDE 2630-1.3, uvm. |
| Manipulation | granitbasiert, 4/5 axes |
Customized adjustments are available on request.